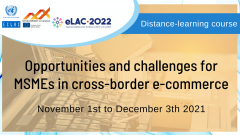 The course is aimed at staff members in charge of MSME support programs including but not limited to: Trade Promotion Organizations, Single Windows, Government Ministries and Agencies in charge of productive development and MSMEs, persons involved in Competition Policy, Data Protection and cibersecurity in the Caribbean.
THE GOAL OF THE COURSE
Training policymakers in good practices to improve the capacities of MSMEs to participate in cross-border e-commerce.
SPECIFIC GOALS
To learn about recent developments and trends in domestic and cross-border e-commerce particularly since the beginning of the pandemic and to examine the barriers and challenges that MSMEs face in this type of international trade.
To understand the process of digital transformation and digital capacity-building of MSMEs for the effective implementation of cross-border e-commerce processes, systems and tools, along with the support that governments can offer through public policies aimed at this group of businesses.
To gain greater awareness of the obstacles that MSMEs face and the best practices in logistics and trade facilitation issues to speed up MSMEs' access to international markets through cross-border e-commerce.
To understand the role of competition policy and competition laws to facilitate the entry and integration of MSMEs as suppliers in regional and global value chains and identify anti-competitive practices that restrict marketa ccess.
To identify critical regulatory elements for data protectionin the use of digital platforms and cyber security.
DURATION OF THE COURSE: 1 November to 3 December, 2021.
For more information and registration please visit the website of the course