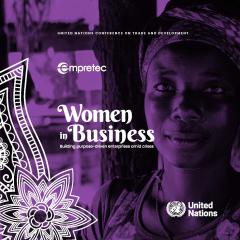 A third of all entrepreneurs in the world are women. Their contribution to development is clear. As their businesses grow, they inspire, create jobs, and offer themselves, their families, and their communities a chance for a better, more inclusive future.
The stories presented here are emblematic of the power and creativity of women entrepreneurs. It demonstrates their strength. It charts their experiences. It underscores their commitment to making a difference. And it shows how the landscape of entrepreneurship is changing.
It showcases how entrepreneurship is becoming more inclusive, equal, representative, and sustainable because of women in business.
But it also underscores the importance of supporting women entrepreneurs and business owners as key to delivering on several of the global goals.
Amid crises it is still crucial that we focus on scoring the sustainable development goals through purpose driven businesses, human-centered outcomes which deliver real social impact, good jobs, solid opportunities, sustainable business models, and concern and care for the people and the planet.