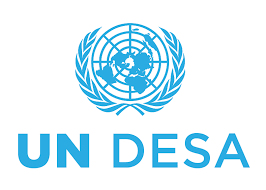 Department of Economic and Social Affairs
Rooted in the United Nations Charter and guided by the transformative 2030 Agenda for Sustainable Development, the UN Department of Economic and Social Affairs (UN DESA) upholds the development pillar of the United Nations, bringing the global community together to work towards common solutions to the world's most pressing problems and help countries translate their global commitments into national action in the economic, social and environmental spheres. UN DESA is a pioneer of sustainable development and the home of the Sustainable Development Goals (SDGs), where each goal finds its space and where all stakeholders can do their part to leave no one behind. UN DESA is a leading analytical voice for promoting inclusion, reducing inequalities and eradicating poverty, and a champion for tearing down the barriers that keep people in poverty.
In phase 1 and 2, UN DESA provided tailored assistance to The Gambia and Kenya on policy guidelines for MSME formalization. Two virtual workshops were organised, and two country specific reports were developed for each country in the area of MSME formalization, in addition to the creation of the MSME policy toolkit for expanding MSME contributions to SDGs in the post COVID-19 pandemic era.
The High-Level Policy Implementation Forum on Supporting MSMEs in The Gambia was jointly organized by the Ministry of Trade, Industry, Employment and Regional Integration (MoTIE) and UNDP Gambia. The Vice President of The Gambia joined the forum together with the UNDP Resident Representative.
The workshop on 'Promoting MSME Formalization through the Cooperative Enterprise Model was jointly organized with the Micro and Small Enterprise Authority (MSEA) Kenya. The workshop presented policy guidelines and recommendations to the Government of Kenya on promoting MSME formalization through leveraging successful cooperative governing policy experience of the country.
Contact details:
Mr. Amson Sibanda
Chief, National Strategies and Capacity Building Branch (NSCBB)
Division for Sustainable Development Goals, Department of Economic and Social Affairs (DSDG/DESA)
Email: sibanda@un.org

Clark Ke Liu
Sustainable Development Officer
NSCBB, DSDG/DESA
Email: ke.liu@desa.org