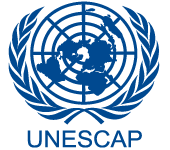 Economic and Social Commission for Asia and the Pacific
ESCAP is the leading inter-governmental platform for regional cooperation in Asia and the Pacific, covering 53 Member States and nine associate members and working closely with them to analyze and address the evolving economic, social and environmental dynamics of the region. By supporting the development of a regional intermodal network, ESCAP works to strengthen connectivity, optimize the use of existing infrastructure and increase the level of integration between the different transport modes. In doing so, ESCAP promotes the unhindered and safe movement of vehicles, goods and people across borders and through countries of the region through the establishment of regional facilitation frameworks, assistance in formulating and implementing facilitation agreements, development of models and standards, provision of facilitation tools and the harmonization of documentation and procedures. In the trade area, ESCAP assists countries, mainly least developed and landlocked developing countries with trade facilitation measures that help simplify processes and regulations.
In the framework of the MSME Surge project, ESCAP created the Asia-Pacific MSME Policymakers Network, which held its first two meetings in March 2021. The network consists of focal points from ESCAP's Member States and serves as an experience-sharing and coordination mechanism for MSME policymakers in the region. The intitial two meetings of the network, supported by in-depth background papers on the topics, discussed the "MSMEs and the Digital Economy" and the "Competition Policy Supporting MSMEs". In addition to the substantive discussion on the themes of the background papers, the meetings were also opportunities to inform Member States' representatives of the ongoing work of ESCAP and UNCTAD in the area of MSME policy. In the future, the Network will provide a key source of feedback for ESCAP for improving its workstream centred on enteprise development and MSMEs.

Contact details:
Ben McCarthy
Associate Economic Affairs Officer
Investment and Enterprise Development Section | Trade, Investment and Innovation Division
United Nations Economic and Social Commission for Asia and the Pacific
www.unescap.org | benjamin.mccarthy@un.org
Veerawin Su
Associate Economic Affairs Officer
Financing for Development Section (FFDS)
Macroeconomic Policy and Financing for Development Division (MPFD)
United Nations Economic and Social Commission for Asia and the Pacific
www.unescap.org | veerawin.su@un.org
Masato Abe
Economic Affairs Officer
Financing for Development Section (FFDS)
Macroeconomic Policy and Financing for Development Division (MPFD)
United Nations Economic and Social Commission for Asia and the Pacific
www.unescap.org | abem@un.org