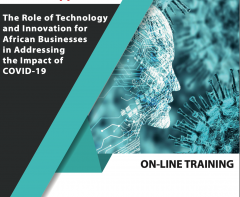 The online course aims at building awareness and capacities of entrepreneurs, businesses and policy makers in Africa on the role that technology and innovation can play in assisting businesses address the impacts of economic shocks such as Covid-19 and build resilience against future shocks.
The course took place from 12 July to 12 August 2021.
In the framework of this course, the webinar "Technology and Innovation for MSMEs" took place on August 4, 2021, targeting participants of the course and bringing International experts to the discussion. The webinar aimed at identifying technologies to address various aspects of an enterprise and discussing on the challenges and opportunities of implementing digital and non-digital technologies for growing an enterprise. More information available here.