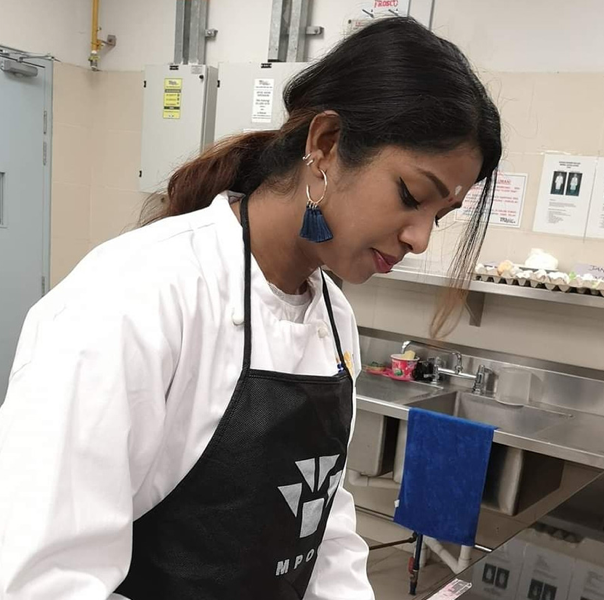 Spotting a niche market
After the outbreak of the pandemic in 2020, Savina Kaharuddin saw an opportunity and started producing bio-cellulose face masks and hand sanitizers in Malaysia.
Her company, VNI Scientific Sdn Bhd, was already making eco-friendly cosmetics and personal care products but Ms. Kaharuddin soon realized that she could also help treat skin problems caused by wearing masks.
To capitalize on this market niche, she made the most of the skills she learned at a training workshop run by UNCTAD's Empretec programme.
"We researched both consumer behaviour and the market, and realized people wanted local products, so we focused on that," Ms. Kaharuddin said.
She took calculated risks and her business thrived.
Empretec trains entrepreneurs to start, manage and grow successful businesses, empowering them to maximize their potential and inspire others in their communities.
More than 500,000 entrepreneurs in over 40 countries have learned vital skills from a network of certified Empretec trainers, helping them change for success.
Turning a passion into a business
Olivia Quah discovered she had a vocation to work with the elderly after caring for her parents.
Empretec helped her to make action plans to expand her company, Asian Integrated Medical Sdn Bhd, an e-commerce platform selling products for seniors,
"Goal setting for me involves finding solutions for the ageing population. It's necessary to have a clear, specific long-term goal and measure the short-term objectives," Ms. Quah said.
Her strategic thinking enabled her to double her online sales and set up two showrooms this year.
She is also opening a premium retirement home with 30 single rooms in June 2022, and employing doctors and other staff.
The power of data
Profiting from data insights, Chandrekha Naidu started her business, Heavenly Baker's Cakes and Pastries, by selling chocolate cakes through Facebook.
But during the COVID-19 lockdown, shoppers couldn't go to the market to buy food, so she used her Facebook customer base and data to venture into the supply of fresh produce.
She also agreed to instalment payments due to the tough times caused by the pandemic. Her sales have increased 200% since she opened the business.
Ms. Naidu credits her success to Empretec training.
"I took a risk by venturing into perishable fresh food supplies and accepting instalment payments," Ms. Naidu said. "But the risk paid off."
Tapping into innovation and networking
Eena Khalil makes railway sleepers. Like many, her company, Mastrak, closed at the height of the pandemic. But Ms. Khalil made every effort to keep all her staff and use the downtime productively.
Empretec training equipped her to have a clear vision and goals, be innovative and harness the power of networking.
"Goal setting is the most basic thing that any entrepreneur needs to have. You need to know what you want to achieve," she said.
As a first step, she asked her team to reconnect with suppliers and customers to better understand their needs and strengthen relationships. She also did more research for future business opportunities and market expansion.
The company lost five months of manufacturing time but thanks to her clear vision and strategy, it was back on track by late 2021 when restrictions were eased.
One of the most effective programmes
The four women shared their inspiring stories during a webinar organized by UNCTAD and the National Association of Women Entrepreneurs of Malaysia in December 2021.
Created in 1998 to foster sustainable development and inclusive growth, Empretec is one of the most effective UN technical assistance programmes to support micro, small and medium businesses.
"The six-day-training workshop is a life-changing experience," said Lorenzo Tosini, the programme's coordinator.
"Empretec has helped many entrepreneurs not only survive in difficult times but also thrive by seizing opportunities and developing new services and products in high demand during the pandemic."