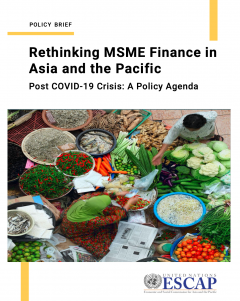 The policy brief proposes a holistic framework to capture new ways of thinking, post-COVID-19
The COVID-19 pandemic is a global catastrophe, with no region spared including Asia and the Pacific. In a bid to constrain the spread of the coronavirus, national and local governments were obliged to lock down public spaces, forbade business transactions in person, restricted travel, and otherwise interdicted the flow of people, goods, and services globally. The consequences for business have been acute, and micro, small, and medium-sized enterprises (MSMEs) naturally suffered more than large firms, given their limited human and financial resources and heavier reliance on cash flows. Access to finance, already a major constraint to MSME development prior to the pandemic, has worsened considerably.
Despite these challenges, the pandemic represents an opportunity for MSME finance in the region. Policymakers can build back better to enable MSME finance to be more sustainable, efficient, and resilient. This will require dramatic changes in how policymakers and all stakeholders, including members of the international development community such as ESCAP, view MSME finance: its provision and related services. In this policy brief, ESACAP proposes a holistic framework to capture this new thinking.
The policy brief is available in the link below: